Oct 2023

15
Governor Khyber Pakhtunkhwa conferred degrees, gold medals and awards on 4th convocation 2023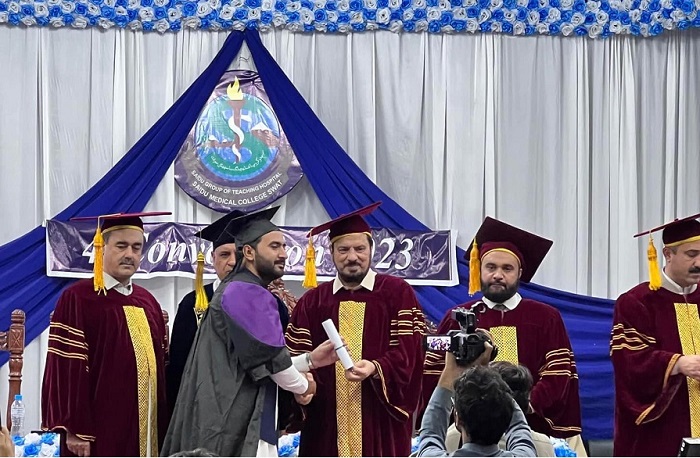 Khyber Pakhtunkhwa Governor Haji Ghulam Ali was addressing as chief guest the fourth convocation of Saidu Medical College. He awarded degrees to 172 graduates of the college belonging to 2018 and 2022 sessions.

The convocation was attended by Khyber Medical University Vice-chancellor Prof Ziaul Haque, Information Secretary Abdul Jabaar Shah, Higher Education Secretary Arshad Khan, Swat Deputy Commissioner Dr Qasim Ali Khan and District Police Officer Shafiullah Khan Gandapur. The faculty members of Saidu Medical College as well as parents and fellow students of the graduates were also present on the occasion.
Prof Israr-ul-Haq, the Principal of the college, presented annual performance report of the institute.
The governor urged graduates and students to make research their mission and contribute to advancements in their respective fields. He also announced to increase the number of available seats at the college from 100 to 150 in the next session.

The convocation ceremony concluded with presenting gold medals to students, who demonstrated exceptional performance during their academic sessions. Prof Dr. Israr-ul-Haq presented shields to Governor and Prof Ziaul Haq.